Get Your Free Quote Today
We Are The Bed Bug Exterminators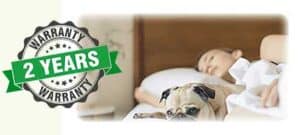 EnviroPest has been protecting local homes and families for over 30 years. Our pest exterminators provide a variety of treatments including our all-natural bed bug control solutions that effectively deal with your issue without requiring you to leave the comforts of your home for more than a few hours. Of course, many customers just realizing they may have a bed bug infestation think about how they may have become infested. Regardless of the reason and the size of the infestation, you have reached the right pest control company to address your concerns.
Our Industry Leading Bed Bug Extermination Method
We Start with a Thorough Investigation
Bed bugs can be an especially tricky pest to see and treat. That's why it's important to have someone who knows the signs of bed bugs to inspect your home. There is a good chance that your infestation is not confined to one room in your house. Bed bugs spread very quickly from one room to another. If you or someone in your home or business is getting bit from bed bugs, it's time to gather information and inspect the property as much as possible. Our exterminators have the experience and expertise to understand the most common (and not so common) hiding spots for bed bugs, and thoroughly inspect each location. Our staff are trained to effectively target bed bug infestations and find where they are hiding.
How to Identify Bed Bugs
Adult bed bugs are light brown to reddish-brown, flattened, oval-shaped and have no hind wings. The front wings are vestigial and reduced to pad-like structures. Bed bugs have segmented abdomens with microscopic hairs that give them a banded appearance. Adult bed bugs grow to 4–5 mm in length and 1.5–3 mm wide.
Adult bed bugs are about 1/4-inch long and reddish-brown, with oval, flattened bodies. Bed bugs prefer to hide in cracks and crevices during the daytime and come out to feed on the host's blood at night, usually while the host is sleeping. Infestations are usually detected by the welts and irritation caused by the bites, and the fecal smears and blood spots visible on pillowcases, sheets and mattresses. Their color ranges from nearly white (just after molting) or a light tan to a deep brown or burnt orange. The host's blood may appear as a dark red or black mass within the bug's body.
Newly hatched nymphs are translucent, lighter in color and become browner as they molt and reach maturity. A bed bug of any age that has just consumed a blood meal will appear to have a bright red translucent abdomen; this color will fade to brown over the next several hours and within two days will become opaque and black as the insect digests its meal. Bed bugs may be mistaken for other insects, such as booklice, small cockroaches, or carpet beetles, however when warm and active, their movements are more ant-like, and they emit a characteristically disagreeable odor when crushed.
Why Bed Bug Companies Like To Treat Early
If you think you may have a bed bug infestation, give us a call or contact us. We can help you identify the signs and see what is going on. We do this every day, so our staff is experienced in the identification of bed bug infestations and even the early indications.
If you suspect you have a bed bug problem, it is best to call a bed bug exterminator right away. As for the signs of bed bugs to look for, bed bug bites often appear as red and itchy bumps, typically in a line or small clusters. Some people even experience hives or blistering at the bite site. Bed bugs can also quickly spread to different rooms and even vehicles as they hitch a ride on a human host, clothing, or bedding. By treating the problem early you can save on larger costs down the road.
EnviroPest Control service offers a powerful, customized bed bug treatment that eliminates bed bugs where they live and breed. We work quickly and effectively with as little disruption as possible. An EnviroPest technician performs an extensive inspection of your home, including beds, furniture, and linens.
Our process removes visible bed bugs and treats the area to eliminate any bed bug hidden and the eggs.

Learn more about bed bug service in your area:
How To Treat
Our Treatment Technology Tool-Chest
We offer the following treatments for Bed Bug extermination:
Steam Treatment – Safe, effective treatment that utilizes the power of high-temperature steam. Reaching upwards of 250 degrees Fahrenheit, steam treatments will kill all bed bugs and eggs that come into contact with it.
Heat Treatment – Safe, effective process that increases the temperature throughout your house to a level that will ensure bed bug removal. We describe a little more information on bed bug treatments in our post discussions about these heat treatments.
Residual Pesticide Treatment – Traditional pesticide treatment that uses residual insecticides to combat infestation areas including mattresses, night stands, chests, dressers, couches, chairs, and other problem areas.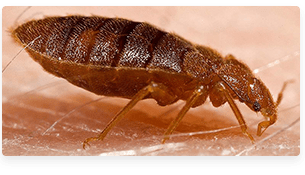 Note: Relying on steam or heat alone doesn't give you a residual to fight eggs/nymphs and impregnated adults. Based on the severity of the situation, our experts will recommend a customized approach of eradication.
Treatment Follow Up
We promise you a 100% bed bug-free house, and we guarantee it! If you find that some of those pesky bugs managed to get past our initial assault, we will come back and make sure we treat your house again free of charge.
Who To Hire
What to Look for When Hiring a Bed Bug Exterminator
Take the time to research the company you're hiring. We have thousands of satisfied customers and take a look at the list below to verify you're dealing with a company you can count on.
The pest management company should be licensed by the state and insured.
Technicians should be certified pest management professionals and fully licensed in the state.
The bed bug pest control service should be a member of a professional organization, such as the National Pest Management Association.
The company should have a staff entomologist or access to one.
The company should walk you through the preparation for your bed bug removal.
Technicians should have experience with bed bug management and eradication.
Choose a company based on their quality of service, not the price. Get several proposals for service if possible and compare them.
A bed bug pre-inspection can be conducted to assess the scope of the work.
The proposed work should follow the steps of integrated pest management, not just pesticide application.
We offer some further information on why to choose a larger local company for your bed bug treatment.
Staying On The Leading Edge
At EnviroPest we are always continuing our bed bug education. We are also a bed bug company that practices integrated pest management IPM. We are constantly one step ahead of both bed bugs and other pest control service firms. But do not just take our word for it. Here are some of the associations that deal directly with bed bug removal and continually reach out to us for contributions to their information and success.


Knowledge From The State At The Beginning Of Bed Bugs Epidemic
State law in New York requires that every pest control company has at least 1 licensed applicator on staff and on call at all times. This is good news. But having "book smarts" is no substitute for having real-life (and real bed bug) experience. It is important to consider how much knowledge and experience competing companies have, specifically with bed bug control and elimination.
For example, did you know that bed bugs are thigmotropic, meaning they are stimulated by physical contact with an object? This is why, despite their name, they cluster in the cracks and crevices of your home, and prefer to live in your walls, not in your bed. This author is willing to bet that your generic pest exterminator didn't know it either.
We Are The Experts When It Comes To The Beginning Of Bed Bugs
Experience Matters In The Beginning Of Bed Bugs
EnviroPest's New York pest exterminators go through extensive training and education to pass the pest control test, and we're required to continue our training to maintain our own personal pest control licenses. No other pest control company requires such a rigorous, expensive, and time-consuming process. We don't mind though; we do it because we know that it makes us the safest and most effective in the industry.
Our Guarantee vs Other Companies
No one in the industry is willing to protect and guarantee to eliminate bed bugs for extended periods of time. There are many reasons to make sure someone is warrantying your service properly. Providing you with the security of a professional warranty is our standard. So many times we get calls from bed bug customers who are frustrated that the company they chose didn't resolve the issue. Often times they think the issue is gone and then it comes back again.
National firms and guys out of trucks always seem to show up when it's time to collect and do the service, but never when they can't figure out why the pests are not gone. The cheapest company is not always the answer. Our rates are extremely competitive and in the long run hiring us after you have paid another firm is not the answer. Check out why you should hire a larger local company to solve you bed bug problem.
Bed Bug Pest Control 2 Year Complete Guarantee
Our exclusive Bed Bug Guarantee is designed to ensure you have eliminated the issue once a for all. We stand behind all or products staff and have a 100% satisfaction rate with all our bed bug customers.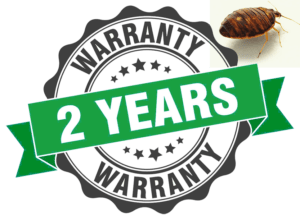 If you as a customer of EnviroPest are not satisfied for any reason, we will readdress the area in question at no additional charge.
Our continuous inspection and treatment means a 100% guarantee as long as you have us on the property.
ASK THE EXTERMINATOR:
What If I'm Getting Bit But Can't Find Anything? Should I Get An Inspection?
We will often get the call regarding people getting bit but not seeing anything. It's important to note that bed bugs are great at hiding, as they only come out in the dark and when they detect carbon monoxide. They take a blood meal when they are moving from one development stage to the next. This means the biting is sporadic and it can be difficult to know you have an issue. If you know you're getting bit by something, be aware that there are not that many insects that will do this in New York. One is the flea and they will bite anytime and it usually occurs on the legs or when you're near a carpeted area. Another is a mosquito which we all know how that looks and feels. The only other small biting insect is the mite and these are rare. They can occur if there is a bird breeding in the house or the dust mite can get into baseboards etc. The treatment for bed bugs will likely eliminate and mites and fleas as well.
What Is The Best Treatment For Bed Bugs? Should I Use Pesticides or Heat Treatment?
There are advantages to both type of treatments. All of our treatments are organic based products and of course heat treatments don't use any type of materials at all. Cost can be a big factor when you're dealing with one versus the other. Here are some factors:
Cost – as a rule of thumb, heat treatments are typically three (3x) to four (4x) times the cost of an organic pesticide bed bug program. Heat treatments are labor intensive and the pricing reflects the equipment and the cost of set-up and breakdown of that equipment.
Prepping Time & Type – Both require prep. Heat treatments involve removing items that are fire hazards or will melt. Beware of personal property. Regular treatments are more focused on cleaning preparation tasks, etc.
Guarantee – Almost all heat treatments have very limited guarantees, if they have one at all. Be aware you may have to pay again. Of course, any treatment should have at least a one (1) year guarantee. A good item to research is how long the company doing the work has been in business. A guarantee is only good if the company still exists when it is needed.
Because of these factors, 90% of of the bed bug customers we service choose to take the Organic Treatment as opposed to the Heat Treatment. When you're thinking about taking the pesticide route, who is doing the application is just as important as the types of products. Many national or large firms have untrained turnover in their staff and application choices are made by seasonal or inexperienced technicians.
Financing bed bug elimination can become very expensive, very quickly. Many pest control companies charge for every visit they make to a home. At EnviroPest, we handle our programs differently. As much as our customers would like to believe otherwise, we know that bed bug infestations do not go away with just one treatment. Our packages include initial treatments as well as the often-required re-treatments and services, so there are no hidden costs and our customers are guaranteed a solution.
Learn more about bed bugs, how to spot them and what to do when they invade your home with these articles.
You can also use the onsite chat feature, Free Pest Inspection form on this page or our online contact form to get in touch with us. Whatever your pest control need, we are happy to help you eliminate it.
Featured Product Lines: