Pest Control Services Syracuse Trusts

EnviroPest is the top pest control specialist in Syracuse and surrounding areas. Servicing homes and businesses in the region since 1991, our commitment to Central New York has some deep roots. From Baldwinsville and Fayetteville to Onondaga and surrounding towns, we have handled pest management of all types. We are the pest control company that Syracuse neighbors near you trust to service their homes and businesses.
History Of EnviroPest Pest Control Services In Syracuse
For over 30 years our staff have been the leading source for pest control and extermination in Syracuse and pest management throughout Central NY. From bee and wasp control on Skaneateles Lake to our facility pest management program at Turning Stone Casino, we have been big advocates of organic and all-natural solutions in this region. Our family has roots in this area and a passion for The Salt City. We are the largest locally owned company in Syracuse dedicated to a safe and effective pest control, and we are proud of providing our neighbors high quality pest control treatments and services. Of course, as the fall ends and basketball season begins, we also can't help but bleed a little 'Cuse orange.
Pest Control Syracuse NY Bed Bugs In Historic Hotel:
We have treated for bed bugs throughout Central New York. From a B&B in Cazenovia to Syracuse's historic downtown hotel, it seems no one is immune to these disruptive pests. We have dedicated entire crews in Syracuse to the elimination of bed bugs and fought back against these pests. This includes eradicating them from boutique hotels and Air BNBs in small towns like Auburn. The region's vibrant tourism and penchant for higher education dormitories has allowed bed bugs to flourish over the last decade. Our branch and staff can find a safe and effective way to guarantee bed bug treatments without breaking the bank. We are committed to our customers and to the health and safety or the region where we live.
EnviroPest is a bed bugs specialist. Many homeowners, landlords and business owners near you have come to us when they have bed bugs. We pride ourselves as a company that has served the local community for over 30 years. We have handled over 300,000 problems for customers over the years but remain dedicated to our local community. Our staff and personal touch have made us the largest locally owned company. We are the area's bed bug company you can feel good about and trust.
Ant Pest Control In The Syracuse Area, Especially Fayetteville: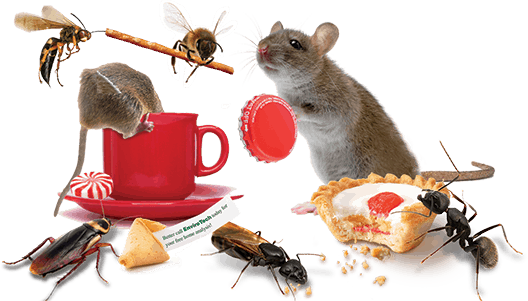 Anyone who has driven through our great towns in the Syracuse regions will admire the great and vast trees that surround the roads and homes. Unfortunately, Carpenter Ants use these trees to create a colony from other colonies. They come from large established trees such as maples or spruce trees which are prevalent throughout Onondaga county. Once they have established in a home they will continue to colonize the structure and create a mature colony. Areas like Clay, Baldwinsville and Manlius are especially conducive for carpenter ant infestations. These large black ants have plagued nearby towns for years. Fortunately, we have the best solution for these Carpenter Ants. Partnered with Cornell Cooperative, we have established the most successful treatment plan in the State of New York for pest management of Carpenter Ants.
Potential Health and Financial Risks of Untreated Mice and Rat Pest Problems
The varying seasons throughout the area can be the perfect storm for rodent infestations. Spending the summer months outside and the cooler months inside, mice in Syracuse & surrounding areas will live in the walls of homes or businesses. They will make a nesting site and continue to populate by breeding in the walls themselves. Not until we see them running across the kitchen counter do we usually realize there is a problem. At this point, your best bet is to call EnviroPest. With over 30 years experience with treating rodents we have the ability to eliminate over 300-500 rodents in a 90 day cycle with our Syracuse pest control rodent management program. Give us a call to find out more today!
Bee And Wasp Pest Control
We have been servicing area bee problems for years including carpenter bees, wasps, mud daubers and cicada killers. Our staff is trained to target and eliminate these pests while keeping your home, business and family safe. The tandem of effective bee control techniques and exterior bee spray helps to prevent them from entering your home. As a local pest control bee exterminator we provide same day pest control service when there is an emergency. As the largest exterior bee pest control company in Central New York, give us a call today to find out more about how we can make you summer months more enjoyable and provide exterior pest control solutions for your family.
Need pest control Syracuse NY? Contact EnviroPest today to schedule your free pest inspection and see why we are the exterminator Syracuse NY trusts with all their pest needs.
Our Syracuse and Utica branch has been working in coordination with our other satellite branches. In fact, our Auburn branch has been training and working with our local branch staff including support and advanced training protocols. Also, our Skaneateles location has also been working with our staff in the Syracuse branch to handle and coordinate all the advanced training.

You can also use the onsite chat feature, Free Pest Inspection form on this page, or our online contact form to get in touch with us. Whatever your pest control need, we are happy to help you eliminate it.
Featured Product Lines: