Get Your Free Quote Today
What you should know about bees and our process of pest control management to safely and effectively remove them from your property.
We Are Your Local Bee Exterminators
EnviroPest has been protecting local homes and families for over 30 years. Our bee exterminators provide a variety of treatments including our all-natural bee control solutions that effectively deal with your issue without requiring you to leave the comforts of your home for more than a few hours.
Our Industry Leading Bee Extermination Method
We Start with a Thorough Investigation
Bees can be an especially tricky pest. There is a good chance that your infestation is not confined to one room in your house. Our technicians have the experience and expertise to understand all the possible hiding spots for bees and thoroughly inspect each possible location.
Our Treatment Tool-Chest for Getting Rid of Bees
We offer a variety of different treatments for bee extermination and will provide recommendations on which procedure is right for your pest situation.
We promise you a 100% bee-free house, and we guarantee it! If you find that some of those pesky bugs managed to get past our initial assault, we will come back and make sure we treat your house again free of charge.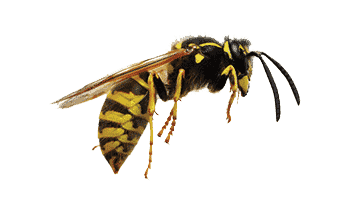 Bees - Bombus
Bumble bees are large, fuzzy insects recognized by almost everyone by their robust shape and black and yellow coloration. The common species are 3/4 inch in length or more.
Biology
Bumble bees are large, fuzzy insects recognized by almost everyone by their robust shape and black and yellow coloration. The common species are 3/4 inch in length or more. Like honey bees, bumble bees live in a colony where the adults care for the young (larvae) produced by a single queen. Bumble bee nests are small compared to honey bees, as each nest contains only a few hundred individuals. Also unlike honey bees, a bumble bee nest is annual and is used only one year and then abandoned. Bumble bees usually nest in the ground in a deserted mouse nest or bird nest. Occasionally they nest in cavities within a wall or even in the clothes drier vent.
How To Hire Exterminators
What to look for when choosing a bee pest control professional:
The pest management company should be licensed by the state and insured.
Bee exterminators should be certified pest management professionals and fully licensed in the state.
The company should be a member of a professional organization, such as the National Pest Management Association.
The company should have a staff entomologist or access to one.
Technicians should have experience with bees.
Choose a company based on their quality of service, not the price. Research user reviews and testimonials to solidify your choice.
A pre-inspection should be conducted to assess the scope of the work.
The proposed work should follow the steps of integrated pest management, not just pesticide application.
The EnviroPest Guarantee
Complete Service Guarantee
If at any time between services or your guarantee period, you as a customer of EnviroPest are not satisfied for any reason. We will readdress the area in question at no additional charge. We have serviced over 300,000 homes and businesses over 30 years, and our clients rely on us to stand behind the work we perform.
Our continuous inspection and treatment mean a 100% guarantee as long as you have us on the property.
Our service personnel has been trained and certified with over six (6) years of experience in the pest control field as specialists. We do not advocate or provide seasonal labor or "college kids" to provide applications in or around your family or home. Another reason we are the natural choice in pest control.

ASK THE EXTERMINATOR:
Common Questions About Different Types Of Bees
How can I tell the difference between a bumblebee and a carpenter bee?
The upper surface of a carpenter bee's abdomen is bare and shiny black. A bumblebee will have a hairy abdomen with some yellow markings. Male carpenter bees will have a yellow face, and the female is entirely black. The carpenter bee's nesting habits are that of tunneling through the wood to lay their eggs, whereas a bumblebee will usually nest in ground areas.
Where are carpenter bees nests most usually found?
Carpenter bee nests are usually found in weathered softwoods, especially cedar, redwood, cypress, and pine. Common nesting sites include eaves, window trim, fascia board, siding, decks, and outdoor furniture. Carpenter bees will form entrance holes that are perfectly round and about the diameter of your finger (3/8″). Often, coarse sawdust can be found beneath the entry hole.
Do carpenter bees sting like other wasps and bees?
Carpenter bees are less aggressive than other bees, but they can and will become aggressive when disturbed. Female bees protecting their nest will become the most aggressive towards disturbances and can sting. Males will fly close to the disruption for mere intimidation, for they have no stinger.
Why do I have bees in my home/business during the winter?
If you have bees during the winter, you have a nest located within your home. Over winter or nesting inside occurs in attic areas where they enter through ventilation holes, soffits, or ridge vents. Another conducive place where bees can nest is in the basement or crawl spaces where access to the exterior is located. This happens where water pipes, electrical and cable lines exit your dwelling.
Will bee stings cause any harmful side effects?
There will be a considerable amount of pain associated with the sting of a bee, depending on your pain tolerance. The only side effects will be a bump and skin irritation; ice will often heal faster. If the stinger is still in place after the incident, you must remove it immediately; if left, a possible infection to the area can occur.
How do I keep bees from entering my dwelling after your treatments?
Entry points should be filled with either steel wool or a liquid foam, we can assist you in this process as much as possible, but your efforts will be the real test in keeping bees from entering your dwelling in the future.
I don't see any ladders in your truck; how will you reach the peaks and eves of my home/business?
We can reach the highest points of your dwelling by not using ladders with our equipment. We use a backpack sprayer that builds high amounts of pressure to shoot over 45 feet. We also have poles that extended to high peaks and eves for injection points of conducive areas.
Learn more about bees, how to spot them and what to do when they settle into your home with these articles.
You can also use the onsite chat feature, Free Pest Inspection form on this page, or our online contact form to get in touch with us. Whatever your pest control need, we are happy to help you eliminate it.
Featured Product Lines: