Your Premier Pest Control Company
We understand that not all pest issues are the same, and not all homes need the same type of treatment. There are a variety of ways to contact us. EnviroPest is trained to identify and treat the root of your particular pest problem. We are available through Live Chat, Phone or Submit a form today and we will contact you immediately to get some information and give you some pest solutions for your home or business.
We also understand that people want someone familiar and professional in their home or business. Being the largest locally owned company in Upstate NY, we find that we have the resources to deliver great resources but our branches and staff are small enough to bring everyone that personal service. When you sign up with us you'll be assigned a dedicated pest control professional. Upon thorough inspection, they will create a customized treatment plan that effectively targets pest problems and home issues exactly where they appear in your home — both inside and out, all year long.
For immediate assistance by an EnviroPest team member, call (855) GET-ENVIRO, submit the form on this page or click below to live-chat with a specialist. We look forward to hearing from you.
WE HAVE A SPECIALIST IN YOUR NEIGHBORHOOD TODAY! CONTACT US!
EnviroPest has specialists throughout Upstate New York.
Why Choose EnviroPest?
24/7 Service Available
We Stand By Every Service—Guaranteed
Safe, Effective All-Natural Treatments
Environmentally Conscious
Fast, Free Inspections & Estimates
Largest, Locally Owned For 30 Years
We know you have many options when choosing a pest control company. Being a large, locally owned company we find most of our client understand the balance of a company big enough to respond and handle special needs but also nimble and caring enough to provide personalized service. For over 30 years we have been servicing clients all over New York. All of our locations are supported by our phone staff so don't worry about which branch or number you call. We Can Help!
OUR COMPANY MISSION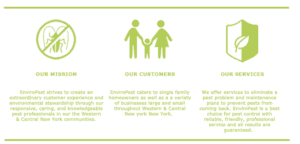 Preventative Pest Protection Program
For many families in our area, pest control will be present a problem around a home year after year. This is why we offer residential preventative exterminating service plans with full protection against common reoccurring pests. These plans offer pre-scheduled servicing and peace of mind in maintaining a pest free home, all year round.
Why Choose EnviroPest Prevention?
Proactive Approach
Peace of Mind with a Healthy Home
Protect Your Property from Damage
Unlimited Service Calls Included
Save money knowing you are covered from multiple pests all year long.
Budget Friendly payment options
You can also use the onsite chat feature, Free Pest Inspection form on this page, or our online contact form to get in touch with us. Whatever your pest control need, we are happy to help you eliminate it.
Featured Product Lines: