Niagara Falls, NY Bed Bug Exterminators
SERVING ALL NIAGARA COUNTY

SAME DAY SERVICE AVAILABLE!
Are you concerned about bed bugs in your home?
We'll find the source of your problems and eliminate the threat that lives in your home.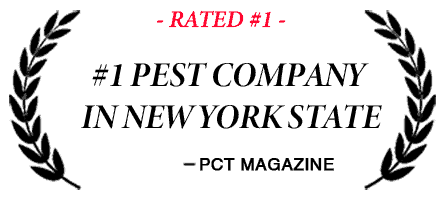 Get Inspected for Free – Bed bugs are excellent at hiding in the seams of your mattress, and eggs are initially impossible to detect. If you even remotely suspect you have bed bugs, schedule your free bed bug inspection.
Stop The Spread – Like most small parasites, bed bugs come in groups. The sooner we find and remove the source of your bed bugs with one of our proven treatment methods, the sooner you'll be pest free.
Rest Assured – If at any point you ever find yourself with more unwelcome house guests, we will come back to clear them out – free of charge!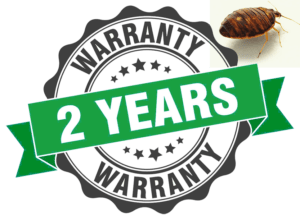 Our Two-year Warranty For Your Bed Bug Extermination Includes:
Guaranteed Peace of Mind
100% Bed Bug Free House
No-Cost Follow Ups
We offer the following treatments for bed bug extermination:
Steam Treatment – Safe, effective treatment that utilizes the power of high-temperature steam. Reaching upwards of 250 degrees Fahrenheit, steam treatments will kill all bed bugs and eggs that come into contact with it
Heat Treatment – Safe, effective process that increases the temperature throughout your house to a level that will kill bed bugs
Residual Pesticide Treatment – Traditional pesticide treatment that uses residual insecticides to combat infestation areas including mattresses, night stands, chests, dressers, couches, chairs, and other problem areas
Get peace of mind that your home is 100% free of bed bugs.
Schedule your free inspection now.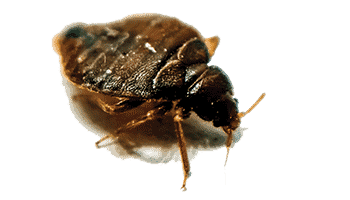 Bed Bugs - Cimex Lectularius
Bed bugs are small parasites with 15 species in North America alone. They can range in size from 1mm (nymph) to 5mm (adult) long.
Bed bugs have three life stages; egg, nymph, and adult. They feed on blood, and molt as they grow through their stages. Bed bugs are often found in groups. It is common to find bed bugs hiding in the seams of mattresses or other areas that allow easy access to hosts during the night, yet leave them undisturbed during the day. Other common hiding places include pieces of furniture such as dressers, nightstands, or armoires. Bed bugs are most commonly active at night. Eggs - Small but visible egg, 2 grains of salt for scale. Nymph - 1 mm in size, poppy seed for scale. Adults – 5 mm in size, apple seed for scale.
Bites or a rash that appear on legs/feet or other bare skin areas
Dark reddish-brown stains on bed linens, especially visible on white mattresses and sheets, caused by bed bugs' fecal matter
Live bugs, exoskeletons or eggs gathered in the seams and sides of mattresses or box springs
Bed bugs enter the home after latching on to someone or something, e.g., purses, bags, luggage, clothing, etc. They come from other infested spaces such as houses and apartments, hotels, theaters, second-hand furniture, etc. Once they arrive to their new residence, they are quick to hide and have the ability to multiply extremely fast. Bed bugs are more common in environments with multiple people living under the same roof. The more people in and out of a residence, the more ways bed bugs can potentially enter the household.
Bed bugs have never been suspected hosts of human disease, even though they are parasitic. Bed Bugs have a jaw that allows for penetration of human skin and feed for only a few minutes at a time. It is common for these bites to produce a rash-like condition that may itch or cause discomfort. The psychological toll can also disrupt sleep habits and lead to a stressful environment for those dealing with infestations.
Available 24 hours / 7 Days A Week
Mention Our Ad and Save Even More!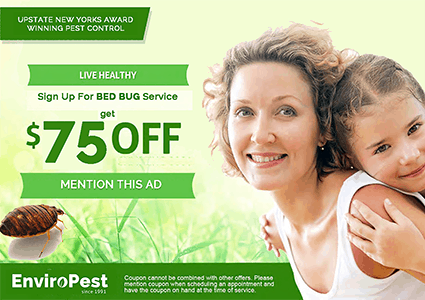 What customers are saying about our work

You can also use the onsite chat feature, Free Pest Inspection form on this page, or our online contact form to get in touch with us. Whatever your pest control need, we are happy to help you eliminate it.
Proud Members: