Your Syracuse, NY Bed Bug Exterminators
EnviroTech has been around protecting our local businesses and homes for over two decades. Our pest exterminators offer many unique, all-natural treatments to end your bed bug problems once and for good. In fact, our natural bed bug treatments only require you to leave your house for a couple hours.
Our Industry Leading Bed Bug Extermination Method
We Start with a Thorough Investigation
Bed bugs are an especially devious pest. Usually when you see these bugs in one room, they are likely to be sneaking around in others as well. Fortunately, our experienced exterminators have an extensive knowledge of where to look for bed bugs and carefully inspect each possible place.
Our Treatment Technology Tool-Chest
Our treatments for bed bug termination are:
Steam Treatment – A 100% natural process that uses the power of high-temperature steam. The steam reaches up to 250 degrees Fahrenheit and destroys all bed bugs and eggs it comes in contact with
Heat Treatment – A 100% natural process that raises the temperature of your house to a level that will kill all bed bugs inside
Residual Pesticide Treatment – Conventional pesticide method that utilizes residual insecticides to eliminate bed bug infestations in the areas such as couches, chairs, mattresses, chests, night stands, dressers and other problematic places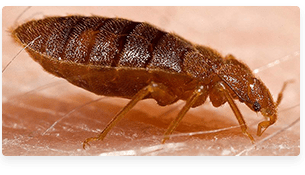 Note: Heat and steam alone does not provide a residual effect to combat eggs/nymphs and impregnated adults. Based on the gravity of the situation, our specialists will advise what methods make sense to eliminate the bed bugs.
Follow Up
Your house will be 100% bed bug free by the time we are done, guaranteed! If any bugs survive the first assault, we will come back and treat your house again free of charge.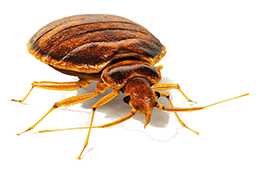 Bed Bugs - Cimex Lectularius
Bed bugs are small parasites with 15 species in North America alone. They can range in size from 1mm (nymph) to 5mm (adult) long.
Bed bugs have three life stages; egg, nymph, and adult. They feed on blood, and molt as they grow through their stages. Bed bugs are often found in groups. It is common to find bed bugs hiding in the seams of mattresses or other areas that allow easy access to hosts during the night, yet leave them undisturbed during the day. Other common hiding places include pieces of furniture such as dressers, nightstands, or armoires. Bed bugs are most commonly active at night.
Eggs - Small but visible egg, 2 grains of salt for scale.
Nymph - 1 mm in size, poppy seed for scale.
Adults – 5 mm in size, apple seed for scale.
Bites or a rash that appear on legs/feet or other bare skin areas
Dark reddish-brown stains on bed linens, especially visible on white mattresses and sheets, caused by bed bugs' fecal matter
Live bugs, exoskeletons or eggs gathered in the seams and sides of mattresses or box springs
Bed bugs enter the home after latching on to someone or something, e.g., purses, bags, luggage, clothing, etc. They come from other infested spaces such as houses and apartments, hotels, theaters, second-hand furniture, etc. Once they arrive to their new residence, they are quick to hide and have the ability to multiply extremely fast.
Bed bugs are more common in environments with multiple people living under the same roof. The more people in and out of a residence, the more ways bed bugs can potentially enter the household.
Bed bugs have never been suspected hosts of human disease, even though they are parasitic. Bed Bugs have a jaw that allows for penetration of human skin and feed for only a few minutes at a time. It is common for these bites to produce a rash-like condition that may itch or cause discomfort. The psychological toll can also disrupt sleep habits and lead to a stressful environment for those dealing with infestations.
Who To Hire
What to Look for When Hiring a Pest Management Professional
The pest management company should be licensed by the state and insured.
Technicians should be certified pest management professionals and fully licensed in the state.
The company should be a member of a professional organization, such as the National Pest Management Association.
The company should have a staff entomologist or access to one.
Technicians should have experience with bed bug management.
Choose a company based on their quality of service, not the price. Research user reviews and testimonials to solidify your choice.
A pre-inspection should be conducted to assess the scope of the work.
The proposed work should follow the steps of integrated pest management, not just pesticide application.
Our Guarantee
Complete Service Guarantee
If, at any time between services or your guarantee period, you as a customer of EnviroTech are not satisfied for any reason, we will readdress the area in question at no additional charge.
Our continuous inspection and treatment means a 100% guarantee as long as you have us on the property.
Why Choose EnviroTech?
105% Price Match Guarantee
24/7 Service Available
We Stand By Every Service—Guaranteed
Safe, Effective All-Natural Treatments
Environmentally Conscious
Fast, Free Inspections & Estimates