Your Rochester, NY Nuisance Wildlife Experts
EnviroTech has been protecting local homes and families for over 20 years. Our nuisance wildlife team provides a variety of humane procedures that effectively evict wildlife from your home permanently.
About Nuisance Wildlife
As we take over animals' natural habitats in favor of business and home development, we leave wildlife no option but to invade our spaces.
Experts say that natural wildlife numbers continue to rise every year due to plentiful food sources and moderate weather patterns.
Your home or business is built to keep you sheltered from the elements and warm in the winter. Why wouldn't wildlife want the same for them and their families?
Our Nuisance Wildlife Control Method
We Start with a Thorough Education
Animals have habits just like humans. Our experts educate our customers on those specific circumstances. Since all animals are different, we bring you up to speed on the specific animals you are dealing with and the dangers associated with them.
Knowing what you're up against is the key to successful wildlife control.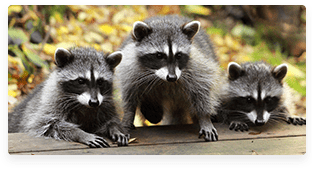 Our Process
Humane Wildlife Removal
EnviroTech policy is to physically remove the animal as humanely as possible without harm. In most cases, we work to arrange a one-way exit, allowing animals to retreat safely to the harboring area and preventing a means of return. If babies or pups are present, we create an opportunity for them to exit and relocate with the mother.
Exclusion
After the animal has been evicted, we will identify and secure entry points, cracks, holes, wires, beams – anything an animal can use to enter the structure. We make sure that your house really is 100% nuisance wildlife-proof. It's our guarantee!
Sanitize
Our trained staff will perform a thorough clean-up and sanitization to ensure the animal's harborage area and feces are properly treated. This ensures safe living conditions for you and your family.
Signs of Nuisance Wildlife
What You'll Hear: Listen for scuffling in the walls/ceilings. Animal sounds such as chirps, squeaks, etc, likely indicate a problem.
What You'll See: Look for signs of animals that may be harboring nearby, such as droppings.
Nuisance Wildlife Implications
Structural damage
Chewed wires
Health concerns
Air quality issues
Psychological effects
Common Nuisance Wildlife
Common nuisance wildlife includes squirrels, opossums, skunks, raccoons, bats, mice, birds, chipmunks, and more.
Who to Hire
What to Look For When Hiring a Nuisance Wildlife Professional
The pest management company should be licensed by the state and insured.
Technicians should be certified pest management professionals and fully licensed in the state.
The company should be a member of a professional organization, such as the National Pest Management Association.
The company should have a staff entomologist or access to one.
Technicians should have experience with nuisance wildlife.
Choose a company based on their quality of service. We recommend reading reviews and checking out testimonials before choosing a business.
A pre-inspection should be conducted to assess the scope of the work.
Our Guarantee
Complete Service Guarantee
If, at any time between services or your guarantee period, you as a customer of EnviroTech are not satisfied for any reason, we will readdress the area in question at no additional charge.
Our continuous inspection and treatment means a 100% guarantee as long as you have us on the property.
Why Choose EnviroTech?
105% Price Match Guarantee
24/7 Service Available
We Stand By Every Service—Guaranteed
Safe, Effective All-Natural Treatments
Environmentally Conscious
Fast, Free Inspections & Estimates