Get Your Free Quote Today
We Are Cicada Killers Exterminators
EnviroPest has been protecting local homes and families for over 30 years. Our exterminators provide a variety of treatments including our all-natural Cicada Killer pest control solutions that will effectively deal with your issue without requiring you to leave the comforts of your home. As a company committed to organic and proper application of pesticides, our residential pest control solutions have been the right fit for over 100,000 families.
Biology of the Cicada Killer
The adult Cicada Killer is a very large (1-1/8 to 1-5/8 inches long), robust wasp with a black body marked with yellow across the thorax (middle part) and on the first three abdominal (rear part) segments. The Cicada Killer's head and thorax are rusty red and the wings russet yellow (brownish). Legs are yellowish. Coloration may resemble yellow jacket wasps. Solitary wasps (such as a cicada killer) are very different than the social wasps (hornets, yellow jackets and paper wasps).
About The Cicada Killer
Cicada Killer Nesting
Female Cicada Killers will move several times their weight in the soil during the process. A single female will burrow 10- to 20-inch-deep separate chambers for her eggs.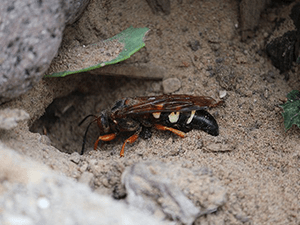 Hunting
The female Cicada Killer hunts for cicada bugs to feed and provide for the eggs that she lays. She paralyzes the cicadas with her stinger, grasps them under her body, and transports them back to the burrow. She then lays eggs on them.
Pest Control For The Cicada Killer
Cicada Killers are difficult to eliminate. They will create individual burrows in loamy or sandy soil.  The best approach is to search and inject each of the nesting sites. A professional exterminator best applies them.
What to Look for When Hiring a Cicada Killer Exterminator
The pest management company should be licensed by the state and insured.
Technicians should be certified pest management professionals and fully licensed in the state.
The company should be a member of a professional organization, such as the National Pest Management Association.
The company should have a staff entomologist or access to one.
Technicians should have experience with Cicada Killer pest control.
Choose a company based on their quality of service, not the price. Research user reviews and testimonials to solidify your choice.
A pre-inspection should be conducted to assess the scope of the work.
The proposed work should follow the steps of integrated pest management, not just pesticide application.
The EnviroPest Complete Service Guarantee
If at any time between services or your guarantee period, you as a customer of EnviroPest are not satisfied for any reason. We will readdress the area in question at no additional charge. We have serviced over 300,000 homes and businesses over 30 years, and our clients rely on us to stand behind the work we perform.
Our continuous inspection and treatment mean a 100% guarantee as long as you have us on the property.
Our service personnel has been trained and certified with over six (6) years of experience in the pest control field as specialists. We do not advocate or provide seasonal labor or "college kids" to provide applications in or around your family or home. Another reason we are the natural choice in pest control.

ASK THE EXTERMINATOR:
How Serious Are Cicada Killers? Are They Dangerous?
Cicada Killers are not usually aggressive toward people, but if a female Cicada Killer feels threatened, she will sting. If you get stung by a Cicada Killer, the pain will be excruciating and is much more intense than a "normal" bee sting.
How Did I Get Cicada Killers?
Cicada Killers thrive in the dirt that is easy to dig. They multiply over time in the same area so that one will turn to many over time. These pests also like well-lit areas or sunny sides of hills. They will follow and thrive on the cicada population as this is their primary food source.
Should We Apply Pesticide for Cicada Killers?
Cicada Killers are large and will likely not leave an area without proper treatment. Many homeowners will try to spray them, but unfortunately, these are huge pests. Unless you have the equipment and the appropriate pesticide to apply deep into the burrows, you will not get the proper results and only have more eggs hatching best applies them.
How Does EnviroPest Specifically Handle Cicada Killers?
EnviroPest is trained to manage Cicada Killers:
Inspection – We will inspect and treat not only the areas of infestation but also the areas that are considered high risk areas within a home. The more extensive and detailed the treatment the more effective.
Prevention – Humidity should be reduced if possible in the high risk areas and any building materials. Moisture should be removed from any area containing highly conducive areas that could create areas of harborage. We can help identify these areas with our clients as we walk through the property.
Guarantee – We are happy to check after a period of time on whether the problems have been resolved. Areas should be checked regularly considering this issue takes a while to occur and become visible it also should be guaranteed by a proper company after you treat the infestation.
You can also use the onsite chat feature, Free Pest Inspection form on this page, or our online contact form to get in touch with us. Whatever your pest control need, we are happy to help you eliminate it.
Featured Product Lines: