Get Your Free Quote Today
We Are Psocid Exterminators
EnviroPest has been protecting local homes and families for over 30 years. Our exterminators provide a variety of treatments including our all-natural Psocid pest control solutions that will effectively deal with your issue without requiring you to leave the comforts of your home. As a company committed  to organic and proper application of pesticides, our residential pest control solutions have been the right fit for over 100,000 families.
Our Industry Leading Psocid Extermination Method
Identification First – Psocid Biology
Psocids (So-sids) are often called Booklice or Barklice. There are over 200 different species of Psocids. Like most small biting insects, Psocids are soft-bodied insects. Depending on the species, the size ranges from 1 to 6 mm. They are less than 3/16 inches long with long, slender antennae. The color of Psocids varies according to the species. They are generally white, gray, or brown on the exterior. Psocids have either four wings or are wingless. This species will live outdoors often have wings. The Psocids that invade homes usually have tiny wings or no wings at all. They have a broad nose called a clypeus.
Most Psocids live outdoors and have wings, and are known as Barklice. The name Barklice probably comes from the fact that outdoors they gather under the bark of trees.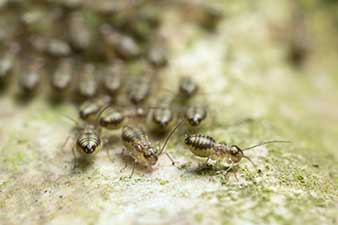 Barklice are found on leaves of trees, shrubs, tree bark, and under stones.
They can become noticeable when they assemble in large numbers.
Barklice feed on fungi, lichen, pollen, decaying plants, and other organic material.
They are harmless to plants, and treatment is not needed.
Some Psocids are wingless and can be found inside buildings. They are called Booklice because they are usually near books or paper.
Booklice don't often do damage inside homes. They are mainly a nuisance and are harmless to people or pets.
Psocids usually feed on decaying organic material, as well as grains, insects, and starches like bookbinding glue. It is the result of Psocids eating the mold and/or fungi growing on these items.
In homes, Psocids typically are found in damp, warm, undisturbed places where mold and fungi are growing.
People commonly find them during the warmest months of the year.
They can cause problems if stored cardboard becomes wet.
They can be a nuisance in large numbers.
What to Look for When Hiring a Psocid Exterminator
The pest management company should be licensed by the state and insured.
Technicians should be certified pest management professionals and fully licensed in the state.
The company should be a member of a professional organization, such as the National Pest Management Association.
A staff entomologist or access to one.
Technicians should have experience with Psocid pest control.
Choose a company based on their quality of service, not the price. Research user reviews and testimonials to solidify your choice.
A pre-inspection should be conducted to assess the scope of the work.
The proposed work should follow the steps of integrated pest management, not just pesticide application.
The EnviroPest Complete Service Guarantee
If at any time between services or your guarantee period, you as a customer of EnviroPest are not satisfied for any reason. We will readdress the area in question at no additional charge. We have serviced over 300,000 homes and businesses over 30 years, and our clients rely on us to stand behind the work we perform.
Our continuous inspection and treatment mean a 100% guarantee as long as you have us on the property.
Our service personnel has been trained and certified with over six (6) years of experience in the pest control field as specialists. We do not advocate or provide seasonal labor or "college kids" to provide applications in or around your family or home. Another reason we are the natural choice in pest control.

ASK THE EXTERMINATOR:
How Serious Are Psocids? Are They Dangerous?
Psocids cannot sting or bite humans. Also, they are not harmful to pets either. They can cause significant headaches for grain storage. They can also be a major headache for homeowners as they increase in extreme climates and areas around homes.
How Did I Get Psocids?
These small insects love areas with high moisture. Humidity must be at increased levels for Psocids to thrive. Psocids can be found in tree trunks, ornamentals, below hose spigots, under rocks, and other areas outside a home with high moisture. They can invade the siding of the house as well. Once inside, they will thrive in window sills, books and bookcases, attics, and basement crawl spaces.
Should We Apply Pesticide for Psocids?
Psocids will exist out of sight when they enter the home. Nesting sites can be challenging to find, and they expand to different areas once they enter the house, and the populations get larger. Crack and crevice pesticide treatment in living spaces and broad application in high moisture spaces such as crawl spaces will stop activity inside structures.
It is also key to focus on bookshelves, cabinets, and storage boxes; penetration deep into nesting areas, including window sills, moldings, and cabinetry, may be necessary as well.
How Does EnviroPest Specifically Handle Psocids?
EnviroPest is trained to manage Psocids:
Inspection – We will inspect and treat not only the areas of infestation but also the areas that are considered high risk areas within a home. The more extensive and detailed the treatment the more effective.
Prevention – Humidity should be reduced if possible in the high risk areas and any building materials. Moisture should be removed from any area containing highly conducive areas that could create areas of harborage. We can help identify these areas with our clients as we walk through the property.
Guarantee – We are happy to check after a period of time on whether the problems have been resolved. Areas should be checked regularly considering this issue takes a while to occur and become visible it also should be guaranteed by a proper company after you treat the infestation.
You can also use the onsite chat feature, Free Pest Inspection form on this page, or our online contact form to get in touch with us. Whatever your pest control need, we are happy to help you eliminate it.
Featured Product Lines: