Get Your Free Quote Today
We Are Chipmunk Pest Control Experts
For over 20 years, EnviroPest's chipmunk pest control experts have been around protecting households and families. Our experts have a vast knowledge of humane treatments to evict chipmunks from your home once and for all.
About Chipmunks
Since we continue to invade wildlife's natural habitat with our buildings and homes, we leave them no alternative but to enter our homes.
Chipmunk populations are expected to continually rise due to the plentiful food supplies and mild climate patterns.
Our homes are designed to keep us warm and protected from all kinds of weather. Why wouldn't chipmunks want to keep their family safe as well?
Our Chipmunk Pest Control Method
Our Process
Humane Chipmunk Removal
EnviroPest's strategy is to use humane methods to remove the chipmunk(s) as safely as possible. Typically, we try to establish a strategy that forces the animal to leave your home without return, (one-way exit). This way the chipmunk(s) are able to leave and find shelter on their own terms, along with bringing their pups if any are present.
Exclusion
After we safely remove the chipmunks, we find and secure entrance points, such as holes, wires, cracks, and beams – anything they might use to reenter the structure. We make sure that your house is 100% nuisance wildlife proof.
Sanitize
Our chipmunk pest control experts will then complete a proper cleanup to ensure the animal's harboring area and feces are cleaned up and thoroughly sanitized. This provides safe living conditions for your home after the critter has been driven out.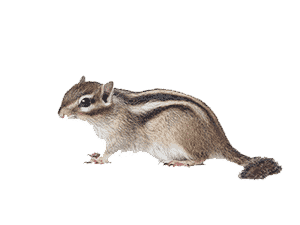 Chipmunk - Tamias
Chipmunks are about 2-6 inches long with a 3 inch tail weighing less than 1 lb. in weight.
Biology
Chipmunks are small, ground-dwelling members of the Squirrel family known for their burrowing habits and love of nuts. Their average size is about 2-6 inches long with a 3 inch tail weighing less than 1 lb. in weight. Despite their size, chipmunks can cause significant damage to homes, yards, and farms.Chipmunks are omnivores, dining on various types of foods that are found mostly on the ground. Their diets are more diverse during the warmer months, during which time they hoard nuts and seeds in their burrows to eat in the winter.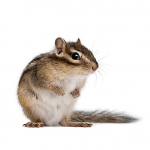 Signs of Chipmunks in Your Home
What You'll See: Search out signs of animals that could be seeking shelter nearby, like feces.
What You'll Hear: Listen for sounds of scratching in the walls and ceilings. Animal noises such as a chirp or squeak could imply a problem.
Implications of Having Chipmunk Problems
Air quality issues
Psychological effects
Structural damage
Chewed wires
Health worries
What to Look For When Hiring a Chipmunk Pest Control Professional
The pest management company should be licensed by the state and insured.
Technicians should be certified pest management professionals and fully licensed in the state.
The company should be a member of a professional organization, such as the National Pest Management Association.
The company should have a staff entomologist or access to one.
Technicians should have experience with nuisance wildlife, and in particular, chipmunk removal.
Choose a company based on their quality of service. We recommend reading reviews and checking out testimonials before choosing a business.
A pre-inspection should be conducted to assess the scope of the work.
The EnviroPest Complete Service Guarantee
If at any time between services or your guarantee period, you as a customer of EnviroPest are not satisfied for any reason. We will readdress the area in question at no additional charge. We have serviced over 300,000 homes and businesses over 30 years, and our clients rely on us to stand behind the work we perform.
Our continuous inspection and treatment mean a 100% guarantee as long as you have us on the property.
Our service personnel has been trained and certified with over six (6) years of experience in the pest control field as specialists. We do not advocate or provide seasonal labor or "college kids" to provide applications in or around your family or home. Another reason we are the natural choice in pest control.

You can also use the onsite chat feature, Free Pest Inspection form on this page, or our online contact form to get in touch with us. Whatever your pest control need, we are happy to help you eliminate it.
Featured Product Lines: