Get Your Free Quote Today
What you should know about ants and our process of pest control management to safely and effectively remove them from your property.
We Are The Communities Leading Ant Exterminators
EnviroPest has been protecting local homes and families for over 30 years. Our ant exterminators provide a variety of treatments including our all-natural ant control solutions that effectively deal with your issue without requiring you to leave the comforts of your home for more than a few hours. We handle 15 various species of ants that are present in our region.
Our Industry-Leading Ant Extermination Method
We Start with a Thorough Investigation
Ants can be an especially tricky pest. There is a good chance that your infestation is not confined to one room in your house. Our technicians have the experience and expertise to understand all the possible hiding spots for ants and thoroughly inspect each possible location. Once you've identified the species of ants from Carpenter Ants to Pharaoh Ants each treatment will be customized to reflect the source areas. Different products different target areas will need to be designed to ensure that ant pest professionals are not only eliminating adult ants but the egg cycles as well.
Some of our common ant species in New York Include:
Acrobat Ants
Carpenter Ants
Citronella Ants
Odorous House Ants
Pavement Ants
Pharaoh Ants
Our Ant Treatment Tool-Chest
We offer a variety of different treatments for ant extermination and will provide recommendations on which procedure is right for your pest situation. We have serviced more homes in for ants in New York.
We promise you a 100% ant-free house, and we guarantee it! If you find that some of those pesky bugs managed to get past our initial assault, we will come back and make sure we treat your house again free of charge to get the situation under control.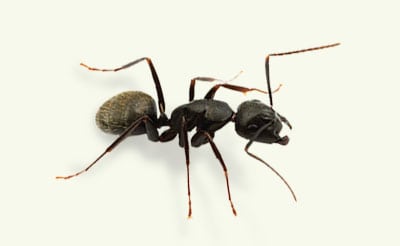 Ants - Formicidae
They are skinny insects. Like their relatives the wasps, they have a narrow connection between their abdomen and thorax. They have chewing mouthparts, and their antennae are bent in the middle. Some ants are very tiny (1-2mm long), but some tropical species are very large (30 mm).
Biology
There are over 12,000 species of ants all over the world. They are skinny insects. Like their relatives the wasps, they have a narrow connection between their abdomen and thorax. They have chewing mouthparts, and their antennae are bent in the middle. Some ants are very tiny (1-2mm long), but some tropical species are very large (30 mm). Ants can be quite frustrating whether they're in your home or when you're having a picnic. They are social insects, which means they live in large colonies or groups. Depending on the species, ant colonies can consist of millions of ants. So if you see one ant chances are there are a million more.
How To Choose An Ant Control Service
What to look for when choosing an ant pest control professional:
The pest management company should be licensed by the state and insured.
Technicians should be certified pest management professionals and fully licensed in the state.
The company should be a member of a professional organization, such as the National Pest Management Association.
The company should have a staff entomologist or access to one.
Technicians should have experience with ants.
Choose a company based on their quality of service, not the price. Research user reviews and testimonials to solidify your choice.
A pre-inspection should be conducted to assess the scope of the work.
The proposed work should follow the steps of integrated pest management, not just pesticide application.
The EnviroPest Guarantee
Complete Service Guarantee
If at any time between services or your guarantee period, you as a customer of EnviroPest are not satisfied for any reason. We will readdress the area in question at no additional charge. We have serviced over 300,000 homes and businesses over 30 years, and our clients rely on us to stand behind the work we perform.
Our continuous inspection and treatment mean a 100% guarantee as long as you have us on the property.
Our service personnel has been trained and certified with over six (6) years of experience in the pest control field as specialists. We do not advocate or provide seasonal labor or "college kids" to provide applications in or around your family or home. Another reason we are the natural choice in pest control.

ASK THE EXTERMINATOR:
Will the gel bait your applying stain or mark my flooring/carpeting?
There is coloring to the gel bait to draw the ants to the bait. This bait can be removed from your flooring by merely using soap and warm water.
Please do not remove our material until a pest professional gives you the approval to do so.
Why do I see just as many ants in the winter as I do in the summer?
Often your dwelling may have a concrete slab in direct contact with soil. In this situation, during the winter, ants will make their way through the porous concrete to the closest source of warmth, your dwelling. This will make the winter season seem just as bad as the summer, especially during a colder winter.
How does the gel bait work? Won't this eliminate the ants after feeding?
Baiting is a more involved and effective solution than spraying when treated correctly. The process itself does take longer but has more significant results. The gel bait is taken from foraging ants back to the colony, where this bait is then regurgitated and passed on to other ants within the colony. One feeding from our bait can eliminate up to 100 ants, whereas a spray product usually only eliminates what people see.
Learn more about ants, how to spot them and what to do when they invade your home with these articles.
You can also use the onsite chat feature, Free Pest Inspection form on this page, or our online contact form to get in touch with us. Whatever your pest control need, we are happy to help you eliminate it.
Featured Product Lines: