Your Syracuse, NY Nuisance Wildlife Experts
EnviroTech has been around defending local families and households for over 20 years. Our nuisance wildlife team provides a variety of humane procedures that remove wildlife from your home.
About Nuisance Wildlife
Deforestation has forced animals to abandon their old homes and search for shelter.
Due to mild weather patterns and ample food resources, experts say that nuisance wildlife's numbers will only continue to escalate each year.
Homes are designed to protect and keep us warm. Wouldn't an animal want that for his/her family too?
Our Nuisance Wildlife Control Method
We Start with a Thorough Education
Each animal has different manners and it is extremely important to know exactly what situation you are dealing with when it comes to nuisance wildlife. Our team of experts understand this and make sure that they properly educate you on any animals you are dealing with and the hazards they bring forth.
Understanding what you are dealing with is an important factor in effective wildlife control.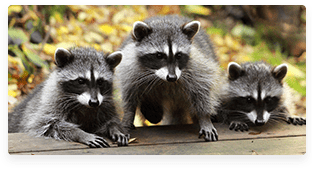 Our Process
Humane Wildlife Removal
Envirotech's policy is to remove all animals as humanely as possible without harm. In most cases we are able to arrange a safe one-way exit that allows animals to depart from the shelter yet stop them from returning. This way also give pups or babies a chance to exit with their mom.
Exclusion
After your nuisance wildlife has been removed we look for any entrance point(s) they might use to get back into your house and block it off. We promise you a 100 percent nuisance wildlife free home!
Sanitize
After we have sealed off any entry points, our experts will complete a proper cleanup of the animals harboring area. This prepares a healthy living atmosphere for you and your family.
Signs of Nuisance Wildlife
What You'll Hear: For noises like shuffling in the walls/ceilings. Any noise such as a chirp or squeak could imply a problem.
What You'll See: Search for marks of nuisance wildlife that might be living in your home, such as droppings.
Nuisance Wildlife Implications
Psychological effects
Health concerns
Air quality issues
Chewed wires
Structural destruction
Common Nuisance Wildlife
The most common nuisance wildlife includes skunks, chipmunks, mice, bats, squirrels, birds, opossums, raccoons and more.
Who to Hire
What to Look For When Hiring a Nuisance Wildlife Professional
The pest management company should be licensed by the state and insured.
Technicians should be certified pest management professionals and fully licensed in the state.
The company should be a member of a professional organization, such as the National Pest Management Association.
The company should have a staff entomologist or access to one.
Technicians should have experience with nuisance wildlife.
Choose a company based on their quality of service. We recommend reading reviews and checking out testimonials before choosing a business.
A pre-inspection should be conducted to assess the scope of the work.
Our Guarantee
Complete Service Guarantee
If, at any time between services or your guarantee period, you as a customer of EnviroTech are not satisfied for any reason, we will readdress the area in question at no additional charge.
Our continuous inspection and treatment means a 100% guarantee as long as you have us on the property.
Why Choose EnviroTech?
105% Price Match Guarantee
24/7 Service Available
We Stand By Every Service—Guaranteed
Safe, Effective All-Natural Treatments
Environmentally Conscious
Fast, Free Inspections & Estimates