Professional Pest Exterminators Columbus OH Can Count On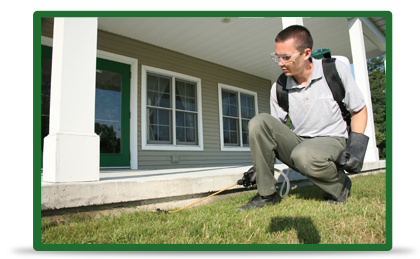 Fast, Effective, 100% Natural Solutions
EnviroTech has protected families and homes for over 15 years with a safe, sound
pest extermination solutions
. Our pest exterminators offer a full array of programs that include all-natural treatments to effectively address your pest problems without displacing you and your family from the comforts of home.
In fact, EnviroTech pest exterminators do not use treatments that involve fogging or spraying, as this exposes residents to harmful airborne materials.
Complete Pest Solutions
The treatment of Carpenter Ants is an episodic program meant to break up the reproduction cycles of the nesting within a wall system. Thousands of eggs (larva) can lay dormant for up to 10 months, even though you may thoroughly treat wall systems or eliminate all reproductive and worker ants within a particular nesting area. Our program focuses on total elimination, rather than just putting a band aid over the situation. We set you up on 4 services that span over the course of a year, to guarantee that we are addressing the issue through all durations of possible reproduction. The duration between services is 3 months. The reasoning behind spacing them out that way, is that the products used to eliminate your problem tend to break down and become ineffective at the 90 day period. The cost of Carpenter Ants treatments, is definitely a little higher in scale. When you take on a program of this cost, you are immediately upgraded to a Complete Solutions Program customer. That means, we will address any pest control issues that you may have with the exception of termites, powder post beetles, and honeybees. A great value for the dollar.
General Pest Solutions
If you are dealing with seasonal pests or occasional invaders ausing problems on the interior or exterior of your home, this program may be for you. General Pest programs cover an ultra wide variety of different pests that you may be dealing with. Some great examples of pests covered(but not limited to) are spiders, flies, box elder bugs, beetles, drain moths, Indian Meal moths, silverfish, mites, etc. We know how infuriating it is to deal with that "little flock of bugs," that you are seeing in or around your home. We can guarantee that we have the solution for you. We will customize your package to fit the pest you are dealing with.
Bee and Wasp Programs
These programs are generally covered under the Complete Exterior Solutions Program, but can be scaled back to cover our little stinging friends only. Generally, bee and wasp programs are set up to tackle what you are dealing with now, as well as preventing this from happening in the first place. We deal with everything from wasps, bees, hornets, yellow jackets, mud daubers, and carpenter bees. Occasionally, you may deal with something a tad more aggressive like ground bees, or bald face hornets. Whatever the scenario, we can help! We pride ourselves in total elimination of your problem.
Mice / Rodent Program
Very effective system of elimination! An initial service where baiting equipment is being installed, is only one part of the initial service cost. You also receive a 10 to 14 day follow-up to identify possible entry points, and rebait stations that are active. We highly recommend an every other month system to break up reproduction cycles. The products we use force the mice or rodent outside to look for a source of water where they will expire – outside of the home. The ultimate goal is to seal off entry points after we feel your home is rodent free. This is a very effective program, if you take the amount of services needed to solve the problem.
Complete Exterior Solutions Program
Are generally set up every other month for the duration of the spring/summer season. Most customers take on these packages due to bee/wasps problems, but we can treat for up to 35 different outdoor pests with the materials we use. The services are set up on an every other month basis due to the fact that the materials we use, tend to break down around the 60-75 day range. We can arrange the services however the customer wants us to! The program is extremely effective if started in April or May, but can also be very effective at eradicating yellow jacket activity in months after June!
Contact EnviroTech today to schedule your
free
pest inspection.
EnviroTech serves customers in the Columbus, Dublin & Grove City, OH areas with professional pest extermination services.