Your Cleveland, OH Nuisance Wildlife Experts
With over 20 years of experience, EnviroTech's nuisance wildlife professionals are a leader in animal control. Our team has a vast knowledge of humane procedures that effectively evict wildlife from your household.
About Nuisance Wildlife
As we continually invade wildlife's natural environment with our homes, animals are left with no choice but to enter our space.
Due to moderate weather patterns and abundant food resources experts say wildlife numbers will continue to rise each year.
Houses are designed to shield us from bad weather and protect us from the cold. Why wouldn't an animal want to live in a cozy house as well?
Our Nuisance Wildlife Control Method
We Start with a Thorough Education
Each animal has a different behavior, just like humans. That is why our team of experts start by properly educating each customer on their unique situation. When you understand what kind of animal you are dealing with and the risks associated with them, there is a greater chance of success at your household.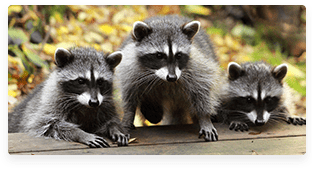 Our Process
Humane Wildlife Removal
Envirotech's experts always remove animals as safely as possible without hurting them. Typically, we are able to create an escape plan for the animal allowing the creature to leave the harboring space but not return. This permits the animal to leave on their own terms, safely.
Exclusion
Once we safely remove the animal from the premises, we search for all entrance points, wires, holes, cracks, beams – anything an animal could use to get back into your home. We take actions to close up these points and guarantee you a 100% nuisance wildlife proof home!
Sanitize
Before our experts leave your home, they will perform a proper sanitization of the animals harboring area to ensure safe living conditions for you and your family.
Signs of Nuisance Wildlife
What You'll Hear: Pay close attention to any scuffling you might hear in your walls/ceilings. Sounds such as chirps or squeaks is a clear-cut sign of a problem.
What You'll See: Look for signs of nuisance wildlife that could be taking shelter in your home, such as animal stool.
Nuisance Wildlife Implications
Chewed wires
Health concerns
Air quality issues
Mental effects
Structural damage
Common Nuisance Wildlife
Typical nuisance wildlife animals include mice, birds, skunks, rats, chipmunks, squirrels, raccoons, opossums and more.
Who to Hire
What to Look For When Hiring a Nuisance Wildlife Professional
The pest management company should be licensed by the state and insured.
Technicians should be certified pest management professionals and fully licensed in the state.
The company should be a member of a professional organization, such as the National Pest Management Association.
The company should have a staff entomologist or access to one.
Technicians should have experience with nuisance wildlife.
Choose a company based on their quality of service. We recommend reading reviews and checking out testimonials before choosing a business.
A pre-inspection should be conducted to assess the scope of the work.
Our Guarantee
Complete Service Guarantee
If at any point in time in your guarantee period you are not happy with EnviroTech's results, we will readdress the space in question immediately free of charge.
Our experts give you a 100% guarantee as long as you are with us.
Why Choose EnviroTech?
105% Price Match Guarantee
24/7 Service Available
We Stand By Every Service—Guaranteed
Safe, Effective All-Natural Treatments
Environmentally Conscious
Fast, Free Inspections & Estimates